The ELAN window displays the Menu bar, the Media Player controls, and a number of Viewers. The following figure shows the different viewers and controls in the ELAN window: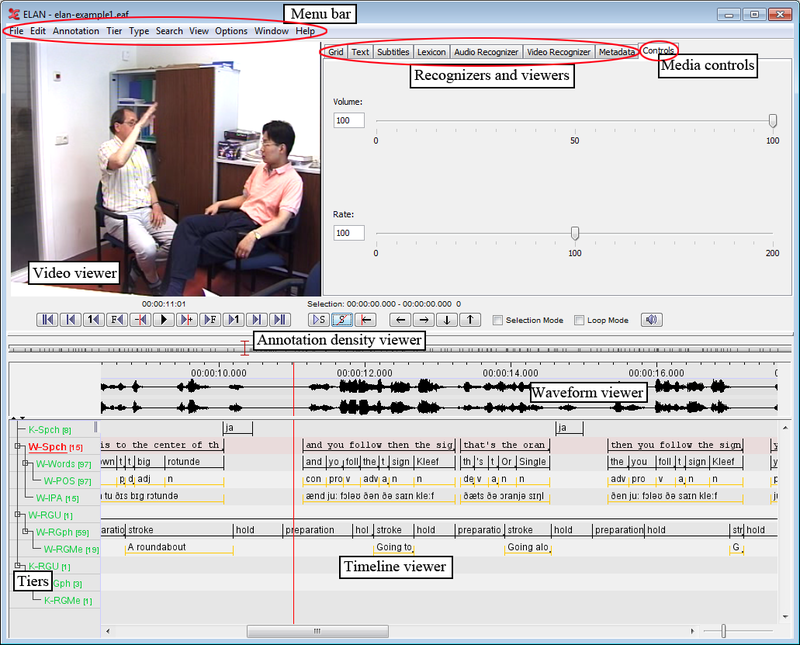 The Timeline Viewer shows the annotations. You can zoom in or out by right-clicking on this viewer and choosing "Zoom". The Timeline Viewer also shows annotations arranged on different lines, the tiers. Each tier contains a different type of annotation, such as a section label, a free translation, a gloss, a grammatical label, or a phonological feature such as eye blink or body shift.

The location of the current frame is indicated in the Annotation Density Viewer and the Timeline Viewer by the crosshair, a red vertical line or I-bar.

The Grid, Text, and Subtitle Viewers provide alternative ways of viewing annotations on particular tiers.
An extended, VCR style set of media controls is available for starting and pausing the media player and for stepping through the media. The steps are:
1 pixel of the Timeline viewer, defaults to 10 ms, depends on zoom level

1 frame, defaults to 40 ms (e.g. for audio)

1 second.

1 scrollview (of the Timeline viewer) or "page"

to the end/to the begin of the media
For all these steps there is a variant to the left and to the right.
The following picture shows the Media controls buttons together with their default short cut keys: